Home
The War Department office was established in 1790. It burned in 1800.
For decades historians believed that its files, and the window they provide into the early federal government, had been lost forever. This collection unites copies of the lost files in a digital archive that reconstitutes this invaluable historical resource.
Our community of transcribers are working to create full text transcriptions of every possible document in the collection. Anyone can join the community and contribute to the project.
Transcriptions in Progress
This letter discusses the purchase of Mr. Cranch's mill and tools for public use. Also, mention is made of Jonathan Williams' efforts to educate Indians.
0 pages needing transcription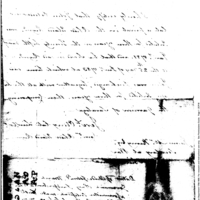 McGown's testifies in support of the De Lesdernier's claims as Canadaian refugees. He certifies their losses and current residence in the United States.
4 pages needing transcription
Wilson asks Hodgdon for an advance of $58 to be deducted from his quarters salary. He needs the money because of the unfortunate loss sustained by his mother upon her return from Norfolk. This has put her backward in her rent and Wilson wants to help her out as she sets out to live with his brother Smith in Charleston.
0 pages needing transcription