Home
The War Department office was established in 1790. It burned in 1800.
For decades historians believed that its files, and the window they provide into the early federal government, had been lost forever. This collection unites copies of the lost files in a digital archive that reconstitutes this invaluable historical resource.
Our community of transcribers are working to create full text transcriptions of every possible document in the collection. Anyone can join the community and contribute to the project.
Transcriptions in Progress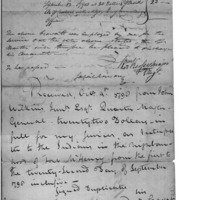 Payment of $597.35 to John Thompson as interpreter to the Cherokee for periods of time from 1791-1794.
0 pages needing transcription
Bill of Exchange for $1,000 due James and William Park for money for paying the regular troops in Tennessee under Lt. Col. Butler.
0 pages needing transcription
Mentions orders by Governor Mifflin relative to the cavalry. Requests howitzers.
3 pages needing transcription