Home
The War Department office was established in 1790. It burned in 1800.
For decades historians believed that its files, and the window they provide into the early federal government, had been lost forever. This collection unites copies of the lost files in a digital archive that reconstitutes this invaluable historical resource.
Our community of transcribers are working to create full text transcriptions of every possible document in the collection. Anyone can join the community and contribute to the project.
Transcriptions in Progress
Garret Van Hoosen grants Ebenezer Farnham power of attorney.
2 pages needing transcription
Returns of stores and receipts signed off on by David Offley between March 1799 and January 1800. Includes a newspaper clipping about goods stolen from public stores.
0 pages needing transcription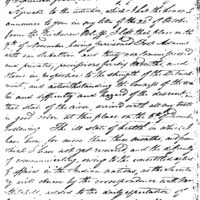 Captain Guion explains the procrastination of his communications that is due to the ill state of his health which he has endured for more than three months and the difficulty of communicating because of the unsettled nature of affairs among the Indian Nations He declares that the Spanish contingent in his quarter is no more than 600 and is by no means a formidable force.
3 pages needing transcription